The Jamaica Automobile Association (JAA) has acquired a driving simulator to further expand its DrivingAcademy services by training more motorists in defensive driving techniques.
The equipment, which is based at the organisation's main office on Central Avenue in Swallowfield, St Andrew, will also assist in developing the competence of learner drivers and licenced drivers, with the intent to enhance safety on the nation's roads.
"A part of our mandate is to improve road safety in Jamaica and we have been doing that over the years through our driver academy. However, we believe that there is more that we can do in terms of improving driver education and this is why we have acquired the driving simulator," explained Dael Whylie, manager, Driving Academy, JAA.
Ms Whylie explained that driving simulators are machines that place the driver in an artificial environment believed to be a valid substitute for one or more aspects of the actual driving experience. Driving simulators normally consist of a dome on top of a platform mounted on longitudinal and lateral rails on the ground. The motion system, on which the dome is mounted, provides horizontal and longitudinal travel and rotation in either direction, so the driver feels acceleration, braking, and steering cues as if he or she were actually driving a real car, truck, or bus.
Inside the dome is a vehicle cab (or a full-sized vehicle body) equipped electronically and mechanically with instrumentation specific to its make and model. The 360-degree visual displays offer traffic, road, and weather conditions; a high-fidelity audio subsystem completes the driving experience. The driver is immersed in sight, sound, and movement so real that impending crash scenarios can be convincingly presented without the driver being endangered.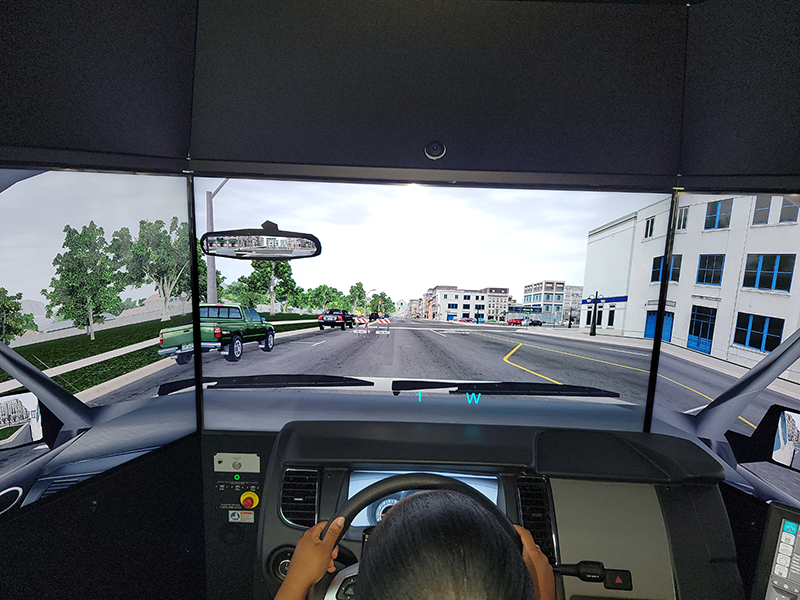 Miss Whylie adds that driving simulators support much more than driver training because they can be used to assist engineers in vehicle designs, highway designs and studying driver behaviours under the influence of drugs, alcohol, and severe weather conditions.
"We will be using it to assist our students and new drivers in overcoming their fear of the road," she revealed. "We will also be using it to assist with defensive driving courses for occupational drivers, such as: bearers, truckers, delivery personnel and everyday users of the road."
Ms Whylie revealed that driving simulators also provide a safe environment for testing the drivers with different scenarios to see how they would cope, adding that: "We are able to recreate conditions such as rain, fog, night driving and skids. These are areas that we would not always be able to teach, especially skid correction."
"Globally, researchers and engineers believe that the measurements obtained from simulators can help them predict equivalent measurements in the real world that lead to a better understanding of the complex driver–vehicle–roadway interaction in critical driving situations," she pointed out.
She added that the results of such studies will ultimately lead to reductions in the number of traffic-related deaths and injuries on the nation's highways.
"Research has also shown that a driving simulator improves driver training, resulting in safer drivers and a reduction in the accident rate of up to 66 per cent for novice drivers. We are confident that in offering this service we will eventually see a reduction in vehicular accidents especially as more new drivers use it to improve their ability to cope on our roads," she affirmed.