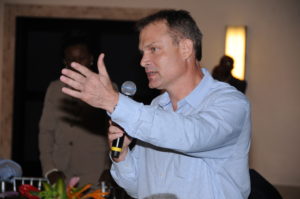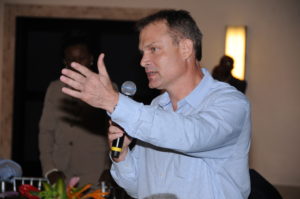 Race car driver David Summerbell has suggested that the introduction of a mandatory Road Code Test for persons applying for a Provisional Driver's or Learners Licence, particularly for motorcyclists, may reduce the number of road fatalities in Jamaica.
He was addressing a luncheon at the Jamaica Pegasus, on Tuesday August 9, mounted under the theme "Jamaica Achieving its Road Safety Targets," which was attended by Jean Todt, UN Secretary General's Special Envoy for Road Safety, and President of the International Automobile Federation (FIA); along with local road safety stakeholders.
"You can get a learners driver's licence and drive a motorcycle without taking a test," Mr. Summerbell stated. "I believe that a simple answer to the problem of motor cyclists driving on Provisional Licences, is that they should be given a simple test prior to being awarded a licence. In fact, I don't think anyone should be given a 'Learners Licence' without first passing a test to establish their knowledge about the Road Code," he added.
He opined that introducing a test for motorists when they apply for a Provisional Driver's Licence would significantly improve the standard of driving on our roads.
"Such a move would raise the bar for our drivers and road users. It may seem simple but it would make a major difference and contribute to reducing fatalities," he pointed out, adding that he hoped that such a requirement would be implemented in the near future.
Responding to Mr. Summerbell's statements, Calvin Allen, Senior Police Superintendent in charge of the Traffic Division, stated that the race car driver's suggestion was one of the sections, which has been added to the new Road Traffic Act, which is currently before Parliament.
"Based on the new Road Traffic Bill before Parliament, persons who wish to drive a motorcycle will need to go through similar processes as persons applying for a driver's licence for a regular motor vehicle," he said.
"When that law is passed, no one will be able to go to the Tax Department, take out a Provisional Driver's Licence and start driving a motorcycle. And we are anxiously awaiting the passage of that new law," Superintendent Allen stated.
In his presentation, Mr. Todt, stated that public education, law enforcement, proper road infrastructure and post-crash care were all important in reducing the country's road fatalities. He explained that he had dialogue with key stakeholders about how best to work towards achieving that goal.
"It is something that we have been discussing since I arrived in Jamaica; and I have had the opportunity to discuss it with the Prime Minister, the former Prime Minister, several Ministers, Leaders of the Police Force and Representatives of the United Nations. They all agree that the current situation of high road fatalities is not acceptable," he maintained.
Was this article helpful?