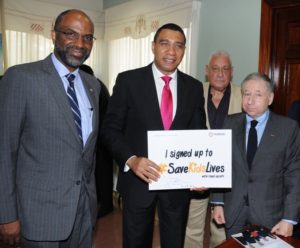 Jean Todt, the United Nations Special Envoy for Road Safety, says Jamaica is well positioned to tackle the high incidents of road traffic fatalities and achieve a reduction.
Mr Todt, who also serves as the President of the Fédération Internationale de l'Automobile (FIA), world governing body of motorsports, pointed out that this change will be realised through "education, law enforcement, vehicle and post crash care, as well as, government's commitment to make road safety a priority."
He made these pronouncements during a courtesy call on Prime Minister, the Most Hon. Andrew Holness, at Jamaica House on Tuesday, August 9, during a one-day visit to the country for discussions and meetings with road safety and motorsports stakeholders.
In a wide ranging discussion with Prime Minister Holness, Mr Todt highlighted the fact that globally, "Over 3,000 persons die on the world's road daily with at least 500 of them children." And, he noted that "Through the United Nations Decade of Action for Road Safety resolution, the goal is to halve these deaths by 2020."
With road traffic fatalities in Jamaica currently showing a 4% increase over the same period last year, Prime Minister Holness revealed that the government is currently in the planning phases of a major road safety campaign. He also acknowledged that road safety is a public health issue; and, in part, is attributable to how roads are currently designed in Jamaica.
"Jamaica is a country in transition, therefore, our roads were never really designed to take the volume of vehicular and pedestrian traffic that we are now seeing," Mr Holness said, noting that other factors, such as "the highways that we are developing and the speed capabilities of the vehicles being imported into the country are contributing to an increase in road traffic crashes."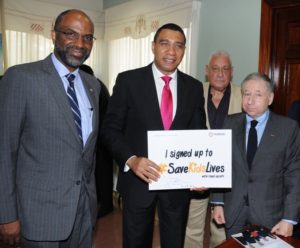 In that regard, the Prime Minister said he has given a directive that new design safety features are to be incorporated in the Mandela Highway road improvement project.
"I have given a directive that safety features must be built in, including speed detecting cameras as part of our attempt to control speed on our roads, and to ensure the proper use of our roads," he explained.
And while the government works to arrest the increase in road fatalities, the UN Envoy underscored the need for private sector involvement in these efforts.
"The government also needs to engage the private sector as well; because they have a big responsibility to support national road safety initiatives," Mr Todt noted, adding that there may also be "a need to seek funding to support road safety initiatives, such as through a Global Fund for road safety, similar to that created HIV and AIDS."
The visit of Mr Todt to Jamaica, was coordinated by the Jamaica Automobile Association (JAA) and the Jamaica Millennium Motoring Club (JMMC), which are both members of the FIA.
His also had discussions during a courtesy calls on the Most Hon. Mrs Portia Simpson Miller, Leader of the Opposition; a meeting with the UN delegation to Jamaica; and, he attended a stakeholder luncheon with representatives from the Ministries of National Security, the Ministry of Transport, the Jamaica Constabulary force and representatives
Was this article helpful?