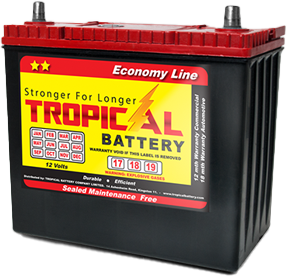 Get 10% off when you purchase your Tropical Batteries
Are you tired of those unexpected car battery breakdowns ruining your day?
Say goodbye to those frustrating moments and hello to uninterrupted journeys!

Exclusive 10% Discount
Upgrade your car's heartbeat today and enjoy a fantastic 10% discount! This is your chance to experience peak performance at an unbeatable price.
Free Delivery and Installation
We make it convenient for you! If you live in Kingston and St. Andrew, we're offering complimentary delivery and professional installation right at your doorstep. No more hassle – we'll take care of it all!
Extensive Range of Battery Selection
Whether you drive a compact car, an SUV, or a powerful truck, you can find the perfect match.
Warranty You Can Trust
Your peace of mind is important to us. Enjoy a warranty of 12-30 months on your new battery, ensuring your investment is safeguarded.
Request a Call Back